Wine is a Women's World: In the U.S., women account for 58.1 percent of wine buyers, according to the Beverage Information Group. A Gallup Poll indicated that among adult drinkers 58 percent of women prefer wine, compared to 20 percent of men, whereas 55 percent of men prefer beer to 23 percent of women.
Here's the thing. No trip to Provence is complete without a visit to a winery, and the sooner that you make one upon your arrival the more your stay will be a respite from blandness (the reason you are here).
There are many ways to go about it. You can ask your gite owner or hotel clerk of a vineyard in the vicinity. Or you can taste a locally-produced wine at the recommendation of a sommelier or chef, and if the vintage agrees with you, pop into the winery the next day. This is how some guests of Le Phebus in Joucas found there way to Philippe Gimel or Olivier B. after quaffing their wines.
The sure deal for wine enthusiasts is to book an organized tour, either individual or small group, for a half or full day, visiting at least two vineyards in various appellations, such as those offered by Provence Wines Tours or Avignon Wine Tours.
Now here's a way to organize your own visits to wineries with a single criteria: women in wine. There was once a deluded but unshakable conviction that wine was about everything masculine. At a Paris dinner party or at a ski lodge in Chamonix Mont-Blanc, the cracking open of a great Bordeaux was a ritual of male bonding.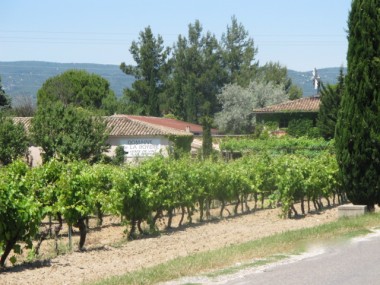 Anne Hugues, a winegrower at the Domaine de la Royère, which produces 12 vintages at its vineyard in Oppede, and has a wine shop in Coustellet, had seen enough of just guys in wine. In 2004, she and Inter-Rhone President Michel Bernard came up with an idea of wine women-as-community on a Rhone Valley-scale togetherness called Femmes Vignes Rhône, or Women Winemakers of the Rhone Valley.
The Femmes Vignes Rhône has more than 30 members taking in the entire range of wine related professions – growers, winemakers, oenologists, sommeliers, brokers, merchants, sales reps, marketing specialists, and journalists. The association aims to promote the work of women in the businesses of viti-and-viniculture, and supports the  role of women in the traditionally masculine environment of wine. Present at numerous events for both professionals and the general public, in France and abroad, the Femmes Vignes Rhône enrich the knowledge and encourage the distribution of the Rhone Valley appellations, cultivating a simple and friendly approach to wine.
When looking for vineyards to visit in the Vaucluse, you can consult the English language website of Femmes Vignes Rhône which lists all its members by appellation (see below) along with a description of their winery.
Using the map on the website, you can arrange your own tour of the estates of the Rhone Valley tended to by women seriously into wine.
 Member Profile
Women wine maker Brigitte Noël (photo l.) at the Château Noël St Laurent, is president of the Les Compagnons des Côtes du Rhône, an organization that runs the "Ban des Vendanges" in Avignon on Sept 1.
The Château Noël St Laurent has a precise division of labor: Didier Noël, who converted from tax specialist to vigneron, looks after the vineyard while his wife Brigitte, who trained at the University of Wine at Suze-la-Rousse, handles the vinification. The Château Noël St-Laurent is situated 6 miles southeast from Avignon at a 13th-century castle that has been in the Noël family since the 1940′s. A fabulous cuvee of the Château is the "Matador," 1/3 Grenache, 1/3 Syrah and 1/3 Mourvèdre, deep ruby in color with a nose of pepper and black cherries and black fruit and round tannins on the palate.With a limited production of 1000 bottles, the 2006 vintage is a steal at 19 euros.
Women Winemakers of the Rhone Valley
Costieres de Nimes
Elisabeth Glas, Domaine de Poulvarel

Luberon
Anne Hugues, Domaine de La Royere
Nathalie Margan, Château la Canorgue
Côtes du Rhône

Céline Barbaud, Domaine des Favards
Marie-France Bressy Masson, Domaine Bressy Masson
Florence Chazallon, Château de la Selve
Claire Clavel, Domaine Clavel
Claire Fabre, Domaine des Romarins
Marianne Fues, Sarl Domaine de Coste Chaude
Stéphanie Fumoso, Domaine du Gour de Chaulé
Jeanne Gaillard, Domaine Jeanne Gaillard
Sabine Garagnon, Domaine du Gros Pata
Anne-Marie Gaudin Riché, Domaine du Terme
Coralie Goumarre, Domaine Galevan
Pascale Hemard, Domaine Saint Luc
Anne Hugues, Château Husson
Véronique Lombardo, Château Le Devoy Martine
Brigitte Noël, Château Noël st Laurent
Camille Nosworthy, Domaine Saint Amant
Christine Olivier, Domaine de Panisse
Françoise Roumieux, Vignobles Mayard
Elisabeth & Marie-Laurence Saladin, Domaine Saladin
Sabine Thompson, l'Ameillaud
Sabrina Tolphin, Inter Rhône
Catherine Vogt, Domaine Saint Justin
Carine Zago, Domaine Nicolas Croze

Beaumes de Venise
Camille Nosworthy, Domaine Saint Amant
Chateauneuf du Pape
Coralie Goumarre, Domaine Galevan
Anne Hugues, Château Husson
Christine Olivier, Domaine de Panisse
Danièle Raulet-Reynaud, International Sommelier Consultant
Françoise Roumieux, Vignobles Mayard
Gigondas
Marie Thérese Combe, Domaine La Fourmone
Stéphanie Fumoso, Domaine du Gour de Chaulé
Anne-Marie Gaudin Riché, Domaine du Terme
Vacqueyras
Marie Thérese Combe, Domaine La Fourmone
Anne-Marie Gaudin Riché, Domaine du Terme
Crozes Hermitage
Sylvie CHEVROL MICHELAS, Domaine Michelas St Jemms
Jeanne Gaillard, Domaine Jeanne Gaillard
Saint Joseph
Sylvie CHEVROL MICHELAS, Domaine Michelas St Jemms
Jeanne Gaillard, Domaine Jeanne Gaillard
Cornas
Sylvie CHEVROL MICHELAS, Domaine Michelas St Jemms
Hermitage
Sylvie CHEVROL MICHELAS, Domaine Michelas St Jemms
Rasteau
Marie-France Bressy Masson, Domaine Bressy Masson
Tricastin
Pascale Hemard, Domaine Saint Luc
Lirac
Véronique Lombardo, Château Le Devoy Martine
Ventoux
Anne-Marie Forestier – Château Juvenal
Nancy et Alexandra GONTIER – Domaine de la Camarette
Anne Hugues – Domaine de La Royere
Joanna King – Château Unang
Basics
Women Winemakers of the Rhone Valley: Website
Chateau Unang (photo below heading of Joanna King): website
Domaine de la Royère (wine cellar photo r): Website
Château Noël St Laurent: Website