Hence this scenario at an upscale restaurant in Provence where I experience acute frustration over my perceived self-indulgence in requesting which local reds on the 'carte' are Syrah-based; I find myself glancing at my cell for messages while the waiter scurries to the 'cave' to retrieve the bottles on which the "back label" reveals the percentages of grape varieties within.
Now, this behavior on my part risks coming across as the somewhat condescending concern of a rude, spoiled, self-absorbed American faux wine snob, as French Syrahs distinguish themselves in the Northern Rhone (Heritage, Côte Rotie, St. Joseph) but are not top-of-mind in the Southern Rhone where Grenache blends rule.
Rare to be surprised by any restaurant listing the grape varieties of a bottle on the wine list, and even rarer that patrons realize what they are drinking, or they assume that since they are in the Southern Rhone it must be Grenache-based blended with Syrah or Mourvèdre, or a bit of both.
As anyone who hits the wine trails of the Vaucluse are quick to discover, the Syrah-dominate wines — from 70% to 100% Syrah – produced in the Ventoux and the Côtes-du-Luberon are a stupendous drink: deep violet in color, displaying intense flavors of blackberries, black currants and plums, bolstered by black peppery notes, and they are often the elite offering of the estate. Here are nine estates – clustered by the regions of the Ventoux and the Luberon – which produce Syrah-dominate vintages:
VENTOUX SYRAHS (in no particular order)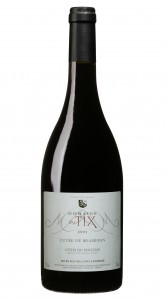 Domaine du Tix (pictured above): Cuvée Bramefan, a 90% Syrah blend with 10% Grenache. Ruby red color with silky and velvety texture, complex structure of vivid fruit flavors, smooth tannins and a spicy finish. Forty sommeliers of leading restaurants in France offer the Bramefan. Excellent price / quality value.
Address: 84570 Mormoiron en Ventoux, Vaulcuse France, Tel: 04-90-61-84-43; Directions: Arriving to Mormoiron on D942, turnoff to gravel road on south side, opposite side of direction to village. Look closely for signage. Website
U.S. Distributor: Bond Street Imports, Website
Domaine de Fondrèche:  Cotes du Ventoux Persia, 90% Syrah (from 50-year-old vines) and 10% Mourvedre. Consistently one of the top quality producers in the Ventoux. Robert Parker at the Wine Advocate raves about this estate, and loves this blend: "Abundant notes of blackberries and cassis interwoven with hints of espresso roast, white chocolate and acacia flowers are found in this tightly knit, full-bodied, impressive 2010. Tasting like a top-flight northern Rhone Hermitage rather than a wine from the Cotes du Ventoux.."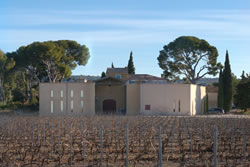 Address: 2589 La venue Saint Pierre de Vassols – 84380 Mazan, Tel . 04 90 69 61 42, Wine Cellar open Monday to Friday from 2:00 to 6:00 p.m., take D163 north from Mazan. Website
Importer: Robert Kacher Selections, Washington, DC; tel. (202) 832-9083, Website
Olivier B: La Première: 100% Syrah, matured 18 months in barrels, only 1000 bottles every two years, massive structure, dense fruit, and obscenely rich, distinct chocolate notes. Wines grown in organic tradition and harvested by hand.
Olivier B's 'auteur' wines find their way to some of the better restaurant tables in Provence. A passion for self-expression asserts itself in Olivier's blog where he pretty much says what's on his mind, and in the dedications printed on the labels of his bottles. Logo: A black silhouette of Olivier B wearing a short brim African straw hat.
Wine Shop: Center of Villes sur Auzon, next to the bakery. Open Friday, 4-7 p.m., Saturday 10:30 a.m. – 12:30 p.m., 4-7 p.m., and Sunday 10:30 a.m. – 12:30 p.m. (Hwy 942 east from Carpentras)
Tel: 04-90-61-72-07 or 06-25-39-08-60 Email: obvigneron@free.fr, Blog
Château Pesquié: Quintessence (Pesquie's top cuvee), 80% Syrah and 20% Grenache, aged 12 months in oak, and bottled unfiltered. Robert Parker of the Wine Advocate flipped over this bottle: "Its dense opaque ruby/purple color is followed by sweet aromas of blackberries, blueberries, charcoal, and acacia flowers. Dense, thick, unctuously textured, exuberant, and ostentatious, this terrific wine can be enjoyed over the next 3-5 years." The Quintessence is full-bodied with a clean finish.
The approach to Château Pesquié, the largest estate in the Ventoux, is impressive, its grandeur and scale summon up properties in the Châteauneuf du Pape.
Address: Route de Flassan, 84570 Mormoiron, Tél. 04 90 61 94 08, Wine shop is open all year long from Monday to Saturday included from 9 to 12 a.m and from 2 to 6 p.m and everyday from Easter until September 30th. Website Directions: Take D144 north from Mormoiron. Check out Gary V's Wine Library videos on Pesquié Wine Tastings, such as this one with Fredrich Pesquié here,
Importer: Eric Solomon, European Cellars, Charlotte, NC; tel. (704) 358-1565, Website
LUBERON SYRAHS  (in no particular order)
Château Val-Joanis, Château Val-Joanis Rouge, 90% Syrah, 10% Grenache. Balanced, well-rounded and smooth with concentrated fruit of black currants and cassis, and a clean finish.
Château Val-Joanis is one of the renowned properties in the Luberon. Located on the site of a Roman villa where wines were once delivered to Rome, the property and the vineyards underwent major renovations and rehabilitation beginning in 1977. The vineyard of 145 acres extends up to an altitude of 1640 feet, the highest plots are called Les Griottes. The Château welcomed Anthony Bourdain and his "No Reservations" Travel Channel crew (photo above). Lovely wine shop open in July and August everyday from 10 am to 7 pm.
Address: 84120 Pertuis, France, Tél: 04 90 79 20 77, Website
Importer: Wineberry, NY, (212) 481-0322, Website
Château Fontvert: Les Restanques rouge, 70% Syrah, 15% Grenache Noir, 15% Mourvèdre. Deep purple color, aromas of red fruit and soft spices, round, well-balanced with very dense blackberry and black currants and a clean finish (With 20% less Syrah than some of the other cuvees, the spices are softer and rounder).
Address: Chemin de Pierrouret, Lourmarin, Tel: 04 90 68 35 83, Cellar open May – September From May to September, Monday to Friday : 9 am – 6.30 pm, and Saturday : 10.30 am – 12.30 am and 3 pm – 6.30 pm. Website
Directions: Just as you leave the village of Lourmarin towards Bonnieux and Apt on D943, the Chemin on the left. Easy to locate once you are in Lourmarin. Note: The Avignon Wine Tour visits the Château Fontvert on its Tuesday Circuit.
Importer: Wilson-Daniels, St. Helena, CA; tel. (707) 963-9661 (not released)
Château La Verrerie: The Grand Deffand Red, 95% Syrah and 5% Grenache, is a wine of great complexity with intense fruit and aromas of black currant, toasted coffee and leather.
If you have one Syrah to take away with you from the Vaucluse, this one gets PVB's nod. An astonishing site and vineyard of 45 acres renovated and reinvigorated by Jean-Louis Descours and his son Gérard. When the Descours assumed control in 1981, a wine cooperative accepted the property's entire production.
Address: 84360 Puget-sur-Durance, Directions: Enter Merindol take Direction Lauris-Pertuis. After 6,6 Km, turn left, direction Les Baumes (C12), and 0.8 Km, take a right, direction Lotissement Les Baumes (D 173). After 0.8 Km, enter the Bastide de la Verrerie by a small bridge on the left. Tel: 04-90-08-32-98, Website Note: Avignon Wine Tours visits this estate on its Tuesday wine circuit.
Marrenon: Grand Marrenon, Cotes du Luberon, 70% Syrah and 30% Grenache from old, high altitude vines aged in 30% new French oak. Deep purple in color, smooth tannins, and reasonable price points. Marrenon is a cooperative of 2000 wine growers taking in 15,000 acres of vineyards. They produce three Syrah-based cuvees. Website
Address for Wine Shop: Boulevard St Roch, 84240 La Tour d'Aigues, Tel 4 90 07 27 47, Open Monday to Saturday from 8.30a.m. to 12.30 2.30p.m. to 7p.m. Open on Sundays and public holidays from 9a.m. to 12.30.
Importer: Kappys Importing and Distributing Company, Everett MA, Email info@kappys.com. Website
La Bastide du Claux, La Motte d'Aigues: 100% Syrah L'Orientale, rich and exquisite Syrah from this quality estate of Ludmilla and Sylvain Morey. Popular choice among 'bonnes tables' in the Luberon.
Address: Campagne le Claux, 84240 La Motte d'Aigues, Tel 04-90-77-70-26, E-mail : contact@bastideduclaux.fr, Website
Located in the eastern Vaucluse: Directions: Take route D37 south from the village, left on Chemin du Claux,  follow signage.