At first glance, the cheery blog of the winery La Gramière in the Gard Provencal evokes an immense pleasure in everything winemaking. Americans Amy Lillard and Matt Kling are telling the story of life among the vines. They're lov'n it, and their enthusiasm seduces you to taste and enjoy their wines.
Pick up their narrative in 2002 when Amy and Matt moved from Paris to the small compact village of St. Quentin la Poterie near Uzès, west of Avignon. In 2004, they plunged into the winemaking biz by buying 11 acres of vines – actually 10 different plots – around the village of Castillon du Gard within the appellation Côtes-du-Rhône.
For Amy, stepping into, or rather back into, the vineyards was "une bonne continuation" after three years working in Burgundy in the vineyards of Gevrey-Chambertin, followed by three years at the iconic Kermit Lynch Wine Merchant in Berkeley, CA. Matt works for Cisco Systems, a San Jose-based manufacturer of networking equipment.
La Gramière wines: The organically and biodynamically-farmed vines are from 40 to 60 years old, yielding rich deep fruit with spicy notes, medium to full-bodied wine with well-structured tannins "en bouche." What the French call "un vin du caractère." Grape varieties are 80% Grenache along with Syrah and Mourvedre. BTW, the bottle label design is smart and simple: an image of strength and sophistication.
The Grenache of La Gramière is not aged in barrels, a dominant practice among Southern Rhone producers. Philippe Cambie, the uber vigneron wine guru, touts Grenache as being uncorrupted by the new oak barrel rage. Grenache is a variety that is low in both pigment and malic acid, and oxidizes readily. Thus, Grenache ages well in cement vats and stainless steel tanks, whereas Syrah favors aging in barrels.
Garagiste Wine Offering La Gramière Vintages
Uber wine salesman Jon Rimmerman of www.garagistewine.com came calling and swooned over Amy and Matt's talent. In offering the 2009  "La Gramière" VdT, he rhapsodized that it is "a rolling ball of lip-smacking, bursting-at-the-seems, fresh and downright delicious red fruit that you want to keep pulling from your holster again and again. It has sophistication beyond its years but also a naïveté that is equally alluring."
Garagiste, founded by Jon Rimmerman, is the world's largest email-based wine business, selling wine exclusively via email offers composed by Rimmerman (see below for details on joining).
La Gramière Fabulous Green Machine, A Wine + Food Tasting Truck
Looking to extend the boundaries of their vineyard, Amy and Matt purchased in January a 1979 Citroën Type H utility vehicle, known by its sobriquet "Le Tube." The initial role of the truck is to replace the stands that have to be set up and dismantled along with the wines at local markets where Amy and Matt sell their wines.
The tedious garage work just to get the truck past inspections to drive on the roads consumed a good chunk of their resources. Last summer when they ran short of funds to complete the makeover, Amy and Matt turned to the crowd-funding site Kickstarter, launching an online campaign with a promo video (here) to raise $7500 to redo the interior and furnish the kitchen. With a boost from social media, they exceeded their goal in a flash.
The Wine Truck is a veritable mobile branding machine with its alluring customer-friendly ambiance – eye-candy to promote the La Gramière brand. The truck will make the rounds of farmers markets at villages in the region, serving customers wine from a bar. It will accommodate tastings with tapas and wine at the vineyard or in neighboring towns. And it will host guest "vignerons," who will pour their wines with La Gramière's, joined by local chefs pairing their creations with the wine at special soirées at La Gramière.
For the yet-to-be-named truck – painted "Gramière green" and white with the La Gramière logo – Amy and Matt are looking to bottle a special vintage, a light fruity red.  Have an idea of a name for the label? Email them. Why not "Cuveé Citroën H Verte." 
Wherever one finds the fabulous green machine, Amy and Matt and their customers will be having a blast.
Basics: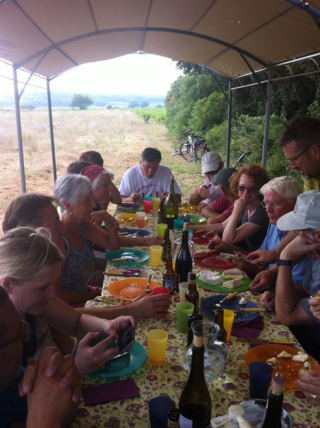 La Gramière: 165, route d'Uzès 30700 Saint-Quentin la Poterie France, Tel: 04 66.57.22.13, Email info@lagramiere.com, Website, Facebook

Garagiste: The world's largest email-based wine business founded by Jon Rimmerman that sells wine exclusively via email offers composed by Rimmerman. Wine acquired by responding directly to email offers.
Wine delivered to customers twice a year – the spring and the fall. No storage costs; shipping charges. Wine pick up w/o charges at Garagiste's warehouse in Seattle.
Sign up for Garagiste on its Website. NY Times "Drunk With Power"
Photo: Lunch at harvest time 2012